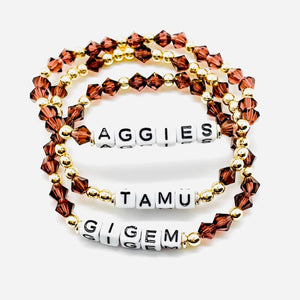 Gig'em, Aggies! The pride of Texas! 
6mm Maroon Crystals accented with Gold Plated Hematite Beads
Handmade with elastic stretch,,sized to 7 inches, one size fits most.
For custom sizes please email or DM on Instagram.
Bracelet stack sold as a set. 
Go to @ShopLondonLane on Instagram to see more video and pics of this item.