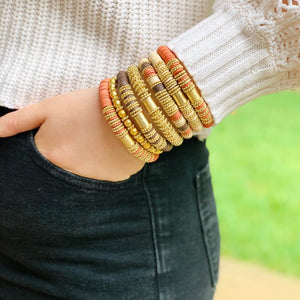 Enjoy all the colors of the Fall Harvest.  This is a special purchase for the entire set shown in the picture. This set includes 1 each of Terra Cotta, Latte, Trio, Lexi, Chocolate, Venice and Pumpkin.  THIS IS A SPECIAL PURCHASE SET WITH LIMITED AVAILABILITY. 
These bracelets are handmade from 8MM  colored polymer heishi beads accented with double halo flower disc beads done in 14kt gold plating. They measure 7 inches and have stretch so they will accommodate anywhere from 6.5 to 7.5 wrist size, So it will fit most wrists. Due to the handmade nature of these bracelets no two will be exactly the same and colors may have slight variations. 

Go to @ShopLondonLane on Instagram to see more pics and videos of this item.